3/29/2021 by James Fedewa @jamfed
While 2020 seemed like an eternity, 2021 is off to a very quick start and this draft season seams like it's coming / going very quickly too. After the big 49ers / Dolphins trade, followed by the Dolphins / Eagles trades, draft implications are boiling, and we are looking at quarterbacks going 1, 2, 3…
And here we go:
PICK
TEAM
PLAYER
POS
COLLEGE
REASON
1
Jacksonville Jaguars
Trevor Lawrence
QB
Clemson
The consensus #1 overall prospect, and the best quarterback prospect since Andrew Luck. Yes, he does look pretty amazing and has all the tools to build a team around. The size, the speed, the arm, the pedigree and The Hair, T-Law has it all. Lawrence was going to be the #1 pick since 4 years ago…
2
New York Jets
Zach Wilson
QB
BYU
After the Miami / 49ers trade, I do believe the Jets go quarterback here. I'm sure the 49ers offered the same deal for the Jets #2 pick, but the Jets must have turned it down (maybe because they plan on drafting a QB here). Sam Darnold was not exactly the total problem for the Jets, but he is still tradeable and they could get a 2nd round pick for him. *If the Patriots can get Darnold some how, that would be so epic.
3
San Francisco 49ers (via MIA, via HOU)
Justin Fields
QB
Ohio State
What a Crazy and aggressive trade by the 49ers. When the trade was announced, it was in the middle of the BYU Pro Day, so this deal could have been made earlier in the week, and I do not think Zack Wilson will be available at #3. So they must have been thinking Justin Fields (or Trey Lance). Shanahan coached Robert Griffin III in DC, and that season, RG3 won rookie of the year. Fields is bigger, stronger and more accurate QB than RG3, so it could be a great fix.
4
Atlanta Falcons
Penei Sewell
OT
Oregon
Feels like Atlanta is a still strapped down with Matt Ryan. Ryan's contract is really sticky, and it doesn't look like they can do anything without him, without taking on major dead cap space. Sewell is a special talent with incredible strength and I plug him anywhere on the O-Line that has an open spot. He makes blocking big guys look easy.
5
Cincinnati Bengals
Ja'Marr Chase
WR
LSU
The Bengals could go offensive line, and Slater could be a great pick here, but Riley Reiff might delay that positional option. AJ Green is gone, and if you can replace him with Burrow's incredible college teammate, then it seams like a no brainer. Chase plays receiver like a bully.
6
Miami Dolphins (via HOU, via PHI)
Kyle Pitts
TE
Florida
Miami trades down, then back up? What the F?? Pitts is a beast and one of my favorite players in this draft, but I view him more of an oversized wide receiver, vs. a trim 240 lbs. tight end. Pitts can be an intimidating WR1 in the NFL, but would you spend two first round picks on a tight end? I would not, but maybe for a WR1. Pitts is WR1.
7
Detroit Lions
Trey Lance
QB
North Dakota State
The Lions could draft wide receivers in this spot, but Smith and Waddle are a little undersized for a top 10 pick, plus Waddle's ankle injury could cause a mini-slide. And I think the Jared Goff addition is fools gold. Sure he could start for a year (before being traded again), but Trey Lance could be an amazing addition for the future of the franchise. Lance is the type of QB that can carry a team, al la Russell Wilson-ish.
8
Carolina Panthers
Mac Jones
QB
Alabama
Just feels like Carolina is targeting a QB, and the 4th QB in this draft is no slouch either. OC Joe Brady did wonders for Joe Burrow's at LSU in 2019. Imagine what Joe Brady could do with Mr. Jones? Good things man, good things…
I like Brady's brain, as you can tell he can read and process defenses very well. His deep ball is very impressive.
*or does Carolina trade this pick (plus future first rounders) for Watson???
9
Denver Broncos
Patrick Surtain II
CB
Alabama
Deshawn Watson rumors to Denver are massive, which would be incredible (if it were to become true), but I do not think Denver has enough draft capital to get Watson. Even if Denver offered the #9 overall pick, and three future first round picks, it would still leave Houston without a QB to draft with this #9 pick. So, Vic Fangio drafts BPA, and you know he loves his CB's. Surtain is the Best DB in this draft.
10
Dallas Cowboys
Jaycee Horn
CB
South Carolina
Dallas tends to draft best pure talent vs. team need and vs. positional value, but this selection might be all of the above for the Cowboys. Horn is a great prospect at this spot and will start immediately. I really love Horns attitude and aggressiveness, as he already has the prototype size. (WR Joe Horn's son)
11
New York Giants
Jaelan Phillips
EDGE
Miami (FL)
The Giants are having a very impressive offseason so far, adding several quality free agents. Yet, most NFL teams are adding inexpensive one year rental free agents, the Giants are offering quality multi-year, standard type of contacts (vs. pandemic reduced salary cap deals). Phillips is my top Edge defender in this class and could play in several spots on the D-line.
12
Philadelphia Eagles (via SF, via MIA)
Jaylen Waddle
WRS
Alabama
Waddle is so fun to watch, as his speed and vision are very impressive. The Eagles did draft a decent WR prospect last year in Jalen Reagor, and adding this speedster could help the whole receiving corp even more.
13
Los Angeles Chargers
Rashawn Slater
OT
North-western
Justin Herbert really impressed last season, his offensive line was trash. Mike Pouncey never saw a snap, both Trai Turner & Brian Bulaga played in about 6 games each. Those three veteran O-linemen robbed the Chargers $30 million in 2020 salary. For the 7th straight year, the Chargers still need to work on a decent O-line, and within this free agency period, they are off to a great start. If Slater falls this far, Chargers fans will .
14
Minnesota Vikings
Kwity Paye
EDGE
Michigan
Paye is an intimidating thick physical freak. He still needs to refine is pass rush moves, which can be learned at the next level. Minnesota could use an OT or CB here as well, but pass rusher seems to be their top priority.
15
New England Patriots
Azeez Ojulari
EDGE
Georgia
The Patriots should draft a quarterback here, and Patriots fans would love to have Mac Jones selected, but he's already gone. Ojulari is a fantastic pass rushing prospect and could play multiple positions for the Pats D, specializing as pass rusher.
16
Arizona Cardinals
Christian Darrisaw
OT
Virginia Tech
Arizona has been very aggressive this offseason, with multiple quality free agent moves, which is nice. CB is a need, but Caleb Farley's back injury scares them off. Left Tackle could be an upgrade over DJ Humphries, and Darrisaw could be that improvement and too good to pass up.
17
Las Vegas Raiders
Micah Parsons
ILB
Penn State
The Raiders defense needs help at several levels and will be the top need. Since Mike Mayock has taken over as GM, he really needs to find a superstar, as he keeps drafting average first round "role-players". Parsons might have a couple red flags (for hazing), but that is OK by Mayock.
18
Miami Dolphins
Jeremiah Owusu-Koramoah
OLB
Notre Dame
JOK is a unicorn. He can play several positions, including outside linebacker, nickel corner and strong safety. With Kyle Van Noy gone, there's an open starting spot. The Dolphins draft (so far) looks outstanding, and so does their future draft capital.
19
Washington Football Team
Alijah Vera-Tucker
OG
USC
Is it crazy to think that an NFL playoff team does not need a super star quarterback? Well, Washington did in 2020. Sure, they had a quick playoff exit, but they might be very close to becoming Super Bowl contenders if they can get their QB situation fixed. We will see if Fitz can succeed, again.
Vera-Tucker is very versatile and highly touted, and I'd play him at left tackle vs. guard.
20
Chicago Bears
DeVonta Smith
WR
Alabama
The Bears really needed a new veteran quarterback ASAP, as their coach & GM are on a short leash and need to win now (or get canned). In comes the Red Rifle to save the day, Andy Dalton. The best way to help Andy is to give him some additional weapons. Adding Smith makes Chicago's top three WR's look pretty good (on paper).
21
Indianapolis Colts
Gregory Rousseau
EDGE
Miami (FL)
OLB Justin Houston is staying in Indy, but the aging pass rusher needs a predecessor. Left tackle is a need, but Rousseau's talent and upside looks too promising to pass up.
22
Tennessee Titans
Christian Barmore
DL3T
Alabama
Barmore is a big tall DT and many see him as a 3-tech DT. I think he would be a better 5-Tech DE prospect in a 3-4, and exactly what the Titians need. Pair Barmore with Jeffery Simmons on the DL, that could be a disruptive and powerful force. Barmore is like Richard Seymour with more waggle .
23
New York Jets (via SEA)
Zaven Collins
OLB
Tulsa
Collin's is an old school thumping linebacker. He could be a 260 lbs. middle linebacker, or an 3-4 OLB edge pass rusher can could drop in coverage or sack the QB. Very talented instant impact player for NYJ.
24
Pittsburgh Steelers
Teven Jenkins
OT
Oklahoma State
Jenkins is a big and mean right tackle, and looks like the type of linemen born to play in a Steelers uniform. His stock has been rising and if the Steelers want to run the ball, they better invest in their O-Line. Jenkins is a nasty overachiever.
25
Jacksonville Jaguars (via LAR)
Caleb Farley
CB
Virginia Tech
Jacksonville really needs some quality cornerbacks and are willing to take the Farley risk (back problems, previous ACL tear). Farley is an quality athlete and will be an very good pro. Ramsey 2.0 (or Jason Verrett 2.0)
26
Cleveland Browns
Joseph Ossai
EDGE
Texas
Ossai, paired with Myles Garrett could be a great pass rushing duo. The Browns will not rely on Tak as a viable threat, but more of a reclamation project
27
Baltimore Ravens
Trevon Moehrig
S
TCU
Moehrig plays free safety, but covers like a corner and hits like a strong safety. Moehrig reminds me of an Eric Weddle type and is very physical and savvy. He might even be able to play cornerback…
28
New Orleans Saints
Greg Newsome II
CB
North-western
It looks like the Saints to have a plan, and are cutting/restructuring many of their current players, just to get under the salary cap. That being said, they can go many directions with this pick, depending on who they eventually cut and/or trade. Jackrabbit was released and Newsome can fill that void.
29
Green Bay Packers
Landon Dickerson
OC
Alabama
The Packers lose an All Pro center, and quickly fill his void with a great new O-line prospect. Sure, it's not another speedy wideout, but Rodgers will be safer wtih this pick.
30
Buffalo Bills
Liam Eichenberg
OT
Notre Dame
I don't know why, but generally, every year, I pick offensive linemen for the Bills. They do have a petty good O-Line, but they could use improvements. Looking at the Bills depth chart, their whole O-line is filled with Right Tackles. Eichenberg gives them a real left tackle.
31
Kansas City Chiefs
Jalen Mayfield
OT
Michigan
KC will draft the best O-linemen available, hopefully a tackle. Mayfield is a plug in play right tackle (and a big upgrade to current RT Remmers). Still feels like Eric Fisher will comeback on a 1 year discount contract, so they'll be OK.
32
Tampa Bay Buccaneers
Rashod Bateman
WR
Minnesota
If I hear, "we are getting the band back together," I'm gonna puke. Antonio Brown has yet to re-sign, and Godwin is on a 1 year tag and Mike Evans has great moments, but he makes too many mistakes with his price tag. Reshod Bateman can hit top speed in 2 steps and can be better and faster than all three of Tampa's 2020 receivers. I think Bateman is a WR1, with good blend of speed, size, vision and brains. I like how he trusts his speed, deciphering tacking angles and how he speed though traffic.
3/3/2021 by James Fedewa
Mock drafts and draft season is going to be a little odd with no 2021 NFL Combine, but it is always great to watch game tape on each NFL prospect. The "Underwear Olympic" is always cool to watch, but I get it, COVID-19 is still lingering around. Here is my "1.0 version" of 2021 NFL Mock Draft: Read the rest of this entry →
9/22/2020 by James Fedewa
"If this new SoFi Stadium could be in San Diego..."Just the simple thought of that could drive chills up a San Diego Chargers fan spine. Or maybe just a San Diego resident. What Dean Spanos tried to do for 20 years for San Diego, only to offer a $5 billion stadium to Los Angeles instead. Sure, it's not exactly Dean Spanos' Chargers venue, but more of the Los Angeles Rams owners gig, Stan Kroenke. Never the less, it's the Los Angeles Chargers now…
The brand new SoFi Stadium, and home of the Los Angles Chargers, looks crazy amazing (and more like the 8th Wonder of the World). Still, Chargers fans must wait again to witness a real Chargers home game on their real home turf (due to state COVID-19 restrictions, fans must stay away a little bit longer).
Football fans turn on the game, expecting to drool over the brand new stadium, lit in powder-blue Bolt graphics, shining with the new Chargers jersey's, only to notice Justin Herbert running out onto the field to start the game? Wait, he is not supposed to be starting. Where is current starter, Tyrod Taylor? Immediately, all the gawking at the new stadium and jersey gets tossed aside as the Chargers first round pick begins a new-era in Chargers history and takes the field for the first time as a professional quarterback. *Well, newer-er (after the first home game, new stadium and the sweet jerseys). The newer-er (Justin Herber) found out he was starting the game, 10 seconds before kickoff.
Starting quarterback Tyrod Taylor's second start as the Chargers QB has abruptly ended (before the game even began). Taylor had "chest pains" after the coin-toss and had to be taken to the hospital. Right then, Herbert was notified, like an alarm clock buzzing on the morning of the first day of school. Yeah, sure… you're probably setting your alarm an hour before school starts, but Herbert got the 10 second warning: GET UP!! TYROD's OUT and YOU ARE IN KID!
And Herbert shined and lit the place up, against the Super Bowl Champion Kansas City Chiefs. No, the Bolts did not win, but they played well and the game did go to overtime. Sure, Herbert had a few errors, but Chargers fans forgot all about the new stadium, the new jersey's and drooled over their brand new QB of the future, Justin Herbert. Herbie is their Ferrari, the stadium is only the garage and the new jersey's are only the upholstery…

My Question to Chargers fans: What's better than a new stadium and jersey's? A damn good 22 year-old quarterback with 4 years starting college experience who just lit up Los Angeles television rating! **We all just wish it was in San Diego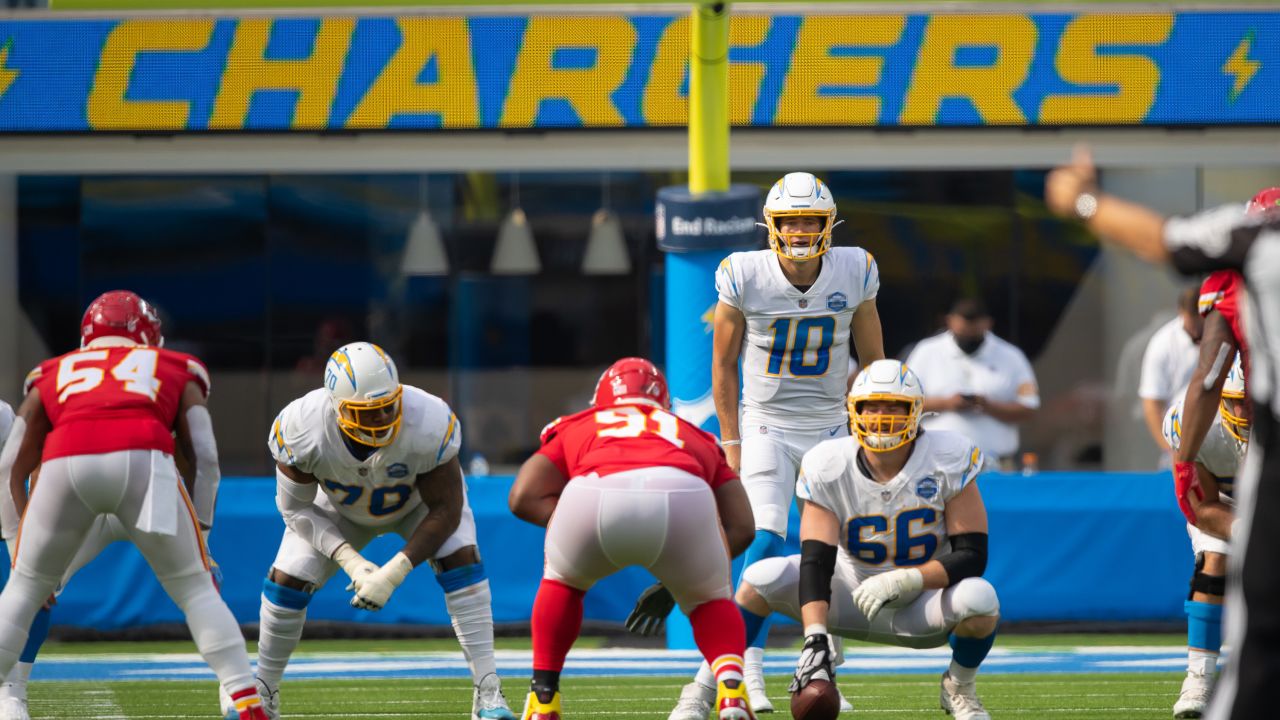 4/22/2020 by James Fedewa
4/12/20 by James Fedewa (www.NationalFanatic.com)
Here is my latest 2020 NFL Mock Draft. How far will Tua Tagovailoa fall?
February 27, 2020 by James Fedewa
The only time I even attempt a mock draft before the NFL Combine, is with offbeat trades. After the NFL Combine, the I will eliminate silly, unpredictable trades, but let's have some fun with it (for now).
PICK

TEAM

PLAYER

POSITION

COLLEGE

NOTES

1

Cincinnati

Joe Burrow

QB

LSU

I do like Andy Dalton as a starting NFL quarterback, and I do not think his play gave the Bengals the first pick in the draft. But the Bengals are in full rebuild, so trading Dalton is probably the only team option, especially with Joe Burrow available. Burrow had a phenomenal 2019 in college and he is their new hope…

2

Washington

Chase Young

EDGE

Ohio State

Young is probably the TOP player in this draft, and the sky is the limit for him to excel in the NFL. He is the perfect pass rushing blend of speed and power and will be a superstar in this league.

3

Trade: Carolina (from Detroit)

Tua Tagovailoa

QB

Alabama

Trade:
Carolina trades 2020 #7, #69 plus 2021 1st round pick, for Detroit's #3. A bidding war starts for the rights to draft Tua (between Miami, Carolina and the Chargers – and the Panthers win). Cam Newton will remain with the team and tutor Tua, and Newton will NOT like it. Yes, the Trade Value Chart does not add up, but when trading up for a Quarterback, the value compensation is out the window…

4

Trade: Detroit


(from NYG)

Jeffrey Okudah

CB

Ohio State

Trade:
Detroit trades back up to get the player they indeed wanted, Okuda. Detroit gives their 2020 #7, #69 and their 2021 3rd round pick (and still acquire Carolina's 2021 first round pick  – BRILLIANT MOVE). Yes, the Giants could draft Okudah here, but Gettleman is really targeting one of two Offensive Linemen, who could be available a bit later in the draft (and still trade for more draft assets).

5

Miami

Justin Herbert

QB

Oregon

Miami gets their true quarterback of the future and a true leader of the franchise. Herbert is not only a gifted athlete; he is even a better leader. Herbert is a top tier QB prospect (and I like him as an NFL QB more than brittle Tua). Miami could keep Josh Rosen as a 3rd QB, based on his cheap cost, but I believe Miami will let Rosen go, and he will be traded to the Colts or Saints.

6

Trade Miami


(from Chargers)

Derrick Brown

IDL

Auburn

Trade: Miami trades #18 and #26 with the Chargers #6 – The Chargers really wanted Tua or Herbert at this spot, but both are off the board, and they will not trade up to get either of them. Tom Telesco could draft Derrick Brown at this spot (BPA), but a trade down offer is just too tempting. Miami gets a pass rushing, run stuffing, relentless defensive beast.

7

Trade New York Giants


(from Carolina)

Andrew Thomas

OT

Georgia

Trade: Gettleman generally draft what he likes, without any trades. But with this year's draft, the G-Men like two offensive linemen in the first round (Thomas or Jedrick Wills Jr) who could be available a little later than at #4 (so Gettleman trades down) Big Run blocking offensive linemen is what this team really needs. Finally, a quality left tackle in New York. Thomas is the BEST

left

tackle prospect in this draft.

8

Arizona

Javon Kinlaw

IDL

South Carolina

Arizona could be in a "full offensive prospect draft" and target wide receivers, running backs, tight ends and offensive linemen, but in reality, their defensive line needs the most attention. Kinlaw is a force and will instantly upgrade the defensive line

9

Jacksonville

Isaiah Simmons

LB

Clemson

What is Simmons; A Safety or a linebacker? Who cares, he is awesome (I initially had POTENTEIAL TRADE DOWN


with Dallas trading up to draft Simmons, as a strong safety)

10

Cleveland

Jedrick Wills Jr.

OT

Alabama

Cleveland just need to draft the best O-Tackle available. I vision him as a right tackle, but Cleveland can plug him in a left tackle for now, anything to keep Mayfield upright.

11

New York Jets

Tristan Wirfs

OT

Iowa

Jets could draft a wide receiver, or go defense, but with Adam Gase as coach, he would want to product Sam Darnold as much as possible (and open holes for Bell)

12

Las Vegas

Jerry Jeudy

WR

Alabama

What will Mike Mayock do here? As a former "NFL Draft Guru," he was one of the BEST at evaluating player-prospects (and mock drafting NFL teams), but as a general manager, he has been very unpredictable (especially with all the first-round draft picks he has had). Jeudy is the TOP wide receiver in a great WR draft, but I think they can go Cornerback or Linebacker here (if Simmons is available here)

13

Indianapolis

CeeDee Lamb

WR

Oklahoma

I had another POTENTEIAL TRADE DOWN with Dallas here too, but their target was already drafted (#17, #82 and 2021 5th Round pick, for Indianapolis #13) Indy could be targeting a QB here, but with Lamb is too fast to pass. Whoever might be the QB in Indy, they are desperate for more weapons, and with Lamb in the fast Indy turf, he will be lightning fast on Sundays.

14

Tampa Bay

Mekhi Becton

OT

Louisville

The Tampa O-line needs help and Becton can plug in at Right Tackle. Becton will eventually grow into Tampa's LT spot.

15

Denver

A.J. Epenesa

EDGE

Iowa

Epenesa looks like a 5-Technique defensive end (3-4 DE). He has size, power and can set the edge. if the Broncos decide to move on from Derek Wolfe, Epenesa is a good replacement,

16

Atlanta

K'Lavon Chaisson

EDGE

LSU

Vic Beasley will not be resigned, so Atlanta needs pass rushers, badly…

17

Dallas

Henry Ruggs III

WR

Alabama

Dallas has too many free agents to re-sign, and Amari Cooper is not at the top of the list. Cooper will test free agency, and get a bigger contract offer than Dallas can afford.

18

Trade: LA Chargers

Jacob Eason

QB

Washington

Trade:

The Chargers were built around Philip Rivers, a classic pocket passer, with quality receiving weapons all over the offense. Jacob Eason's game is also similar to Rivers game, and the Chargers do not have to change much offensively in the transition of QB styles. Eason is very raw but is exploding with talent. He could sit a year behind Tyrod Taylor. Eason has the BEST arm in this draft, hands down… 

19

Las Vegas

C.J. Henderson

CB

Florida

What will Mike Mayock do here (part 2)?
The Raiders could target QB Jordan Love, LB Patrick Queen or corner C.J. Henderson, but a pass rusher like Gross-Matos is just too tempting. You can never have enough pass rushers.


 

20

Jacksonville

Josh Jones

OT

Houston

Jacksonville's O-Line seems like they always need improvement. If the Jags want to be a running team or a passing team, they are going to have to start building in the trenches. Cam Robinson is not the solution at left tackle…

21

Philadelphia

Laviska Shenault Jr.

WR

Colorado

Philly could dump all of their wide receivers this off-season, but they also need some upgrades at cornerback.

22

Buffalo

Yetur Gross-Matos

EDGE

Penn State

Buffalo needs edge pass rushers and Gros-Matos paired with Ed Oliver can strike fear into opposing QB's.




Shaq Lawson, 16/1

23

New England

Jordan Love

QB

Utah State

Jordan Love's draft stock is on the rise. I do not think he is a Belichick style of QB, but he is for offensive coordinator Josh McDaniels. I cannot imagine Tom Brady in a different uniform, but it will probably happen, only because the Patriots O-Line is weak, and their receiving core is even worse. Brady is going to want TOP dollars, and the Patriots will not offer the contract Brady wants. I think Brady leaves New England, or retires…

24

New Orleans

Xavier McKinney

S

Alabama

Vonn Bell will not be re-signed, and McKinney takes his spot.

25

Minnesota

Grant Delpit

S

LSU

Vikings could be targeting a CB, but Delpit is too good to pass up at this spot…

26

Trade LA Chargers

Austin Jackson

OT

USC

Trade:

The Chargers could either cut Russell Okung and save $13MM, or he will stay with a restructured deal. Austin Jackson will play right tackle until he's ready to take over at left tackle. The Chargers gamble with their trade down, but they capitalize with two first round pick (QB and LT).

27

Seattle

Trevon Diggs

CB

Alabama

Seattle needs pass rushers, defensive secondary help and offensive tackles. Diggs is a Long-Tall cornerback and fits the mold of what Pete Carol looks for in a CB.

28

Baltimore

Patrick Queen

LB

LSU

Baltimore have a very stout defense, let by their secondary, but in 2020, there are five starters up for free agency.

29

Tennessee

Kristian Fulton

CB

LSU

The Titans have some secondary holes to fill, especially if Logan Ryan leaves in free agency

30

Green Bay

Justin Jefferson

WR

LSU

The Packers saw how thin their receivers are when Devante Adams was out with injuries.

31

San Francisco

Tee Higgins

WR

Clemson

49ers need to add weapons for Jimmy G. Emmanuel Sanders could possibly leave in free agency as well…

32

Kansas City

Kenneth Murray

LB

Oklahoma

Cornerback is probably the largest need for the Chiefs, but Murray added to the defense, wow.
*For the record, I have been watching quarterbacks Jordan Love and Jacob Eason since their high school football days. Both are from the town I am from (Jordan Love = Bakersfield, CA / played football with my nephew) and the town I currently lived in (Jacob Eason = Lake Stevens, WA). Plus, I am a Chargers fan whose favorite player is Philip Rivers (so I have been dreaming of one of these guys being the next quarterback of the BOLTS).
February 2, 2020 by James Fedewa
Looks like the Philip Rivers era is coming to an end for Chargers Fans. Is this ac-TUA-lly happening? I'm so sad, I could eat a whole container of s-HERBERT. This s-EASON is going to be tough. I really LOVE-d Rivers but fans knew the owners are Jackasses (err BURRO-W's).
January 4, 2020  by James Fedewa
…with the sixth pick in the NFL Draft (OK, so now you know. I'm a Chargers fan): Rivers is getting up there in age, at 38 years young, but he is not ready to retire. Finding his replacement would be the savvy selection with the #6 overall pick, but not necessary the sure thing. so I will give you FOUR draft day scenarios:
1.) Chargers General Manager Tom Telesco will be aggressive with this years draft and trade up to get the #1 overall pick. Chargers trade their #6 pick, their #38 pick and 2021 1st round pick to select Quarterback Joe Burrow, LSU.  This would be ideal fit for Burrow as he could learn for a season with Philip Rivers as his mentor.
2.)  Telesco will use the #6th overall draft pick to select Quarterback Justin Herbert, Oregon. Many mock-drafters are predicting Herbert to the Chargers, which could be an excellent selection, as he has the size, arm strength and what I like most about him the most is his leadership and poise.  Herbert is the true leader of the Oregon Ducks football team and after watching the Ducks vs. Washington and vs. Wisconsin, Herbert led his team to victory.
#3.)  Chargers will trade down in the first round and trade back up.   Telesco is not a "wheeler and dealer" when it comes to the draft.  He likes a set of guys (per round) and generally sticks to his scouting evaluations and round groupings (he lets the draft come to him). But this year, Telesco will turn his #6 pick into two first round picks in 2020 with trades. The first pick will be a left offensive tackle (or even Right Tackle Tristan Wirfs, Iowa). Followed by their selection of Quarterback Jacob Eason, Washington.   If Philip Rivers gets to tutor a young QB, that QB should have a set of similar tools.  Eason and Rivers have very similar builds and play style and Eason could be the perfect protegee for Rivers. Looking at the top 5 quarterbacks in this draft, I could see Eason or Herbert the best fit for Rivers.
4.) Honestly, I think at least four quarterbacks will be selected in the first round and three will be taken in the top five picks.  If Telesco wants a quarterback in the first round, he's going to have to trade up and get one. Cincinnati, Detroit and Miami will probably have already selected Burrows, Tua and Herbert, which would leave the BPA:  Cornerback Jeffrey Okudah, Ohio State being selected by the Chargers.
Mock drafting for the Chargers is not about what you or I think. Its about what you (or I ) think Tom Telesco will do (so predict the GM is the game, not mock drafting)  
Current Season Playoffs: (RANT)
With the (Your Team Here) out of the playoffs, (Your Team Here) fans can now move on from this professional football and focus on the NFL Draft.  Sure, the NFL Playoffs will be fun to watch for many fans, but since the (Your Team Here) are done, so we should all be done with the NFL for now (or for at least the playoffs anyway).  If you are a 100% (Your Team Here) fan, then zero percent interest should be focused on other teams (and the NFL), so why bother to watch (except for maybe the Seattle Seahawks; give them 3% of our professional football interest, just because I live in Seattle and my kids love Russell Wilson, who is #3, hence the 3%).
The main reason why we should be done with the playoffs, other than because the (Your Team Here) are done for the season, the NFL referees are pure garbage (which is shit, mixed with a junk). Missed calls, unturned video replay reviews and subjective bias leniency. It's crazy how much a referee can alter the outcome of a game, yet the NFL thinks they are so good, it is difficult to improve.
My Second reason why we should NOT watch the NFL Playoffs: Douche Bag NFL Owners.  Screw those know-it-all pricks that think they are improvising their brands by either moving to a different city,  firing their coaches after one season, or pretending they  know how to run a a football team because they own a team. That's like saying, I own a Ford Truck, and my truck slid on the pavement the other day, so lets replace every tire (or replace the whole truck).  NFL Teams should be run by their city, not a person or chairman, sorta like the Green Bay Packers, but that's a different topic.
My third and final reason why we should be done with the NFL Playoffs (this one's personal):  I won my fantasy football league, so my pinnacle for this season was finished just after week 16, the fantasy football championship game.
10/15/2019 by James Fedewa
I have not been blogging too much this season, as I usually focus my content in the beginning of the year (primarily with the NFL Draft, January through April). After the NFL Draft, I usually review local craft breweries and their unique beers, as well as rant about the NFL. If you have ever seen my Instagram account, you would already know my passion for unique beers. But lately, my available time has been running scarce, especially with our kids getting older, including their variable sports schedules.
Sure, 8 year old and 10 year old kids are limited in actual competitive sports, but it is fun to watch them do well, yet we never really know what our daily schedule might bring. We can have three soccer games in one day, and two soccer practices and a basketball practice the next day. The following week might only have three total practices, and staggered games over the weekend, in different (yet local) cities…
And we would not want it any other way. This was not the primary reason why we wanted kids (making life unpredictable, fun and/or diverse), but the change of focus from our individual selves, focusing on something else (our children and their growth). These new responsibilities grants us wisdom within our family making us better people, and more importantly, better humans. My wife and I wanted kids to grown with us, to enhance each others lives, and to share our values. We can pave a path for our kids to walk, but they must choose their own direction (with a nudge or two).
It is also weird how our own parents values influence how we now raise or own kids. My folks had me in soccer, football and baseball (which is exactly what I find myself doing with my own children), but not necessarily the same sports. We want to expose our kids to as many sports they could think of, and see which sports sticks. I wanted to see the sports they were good at, or hated, or which sports I do not like at all (or my wife loves). Yes, we do have our preferred kids sports (Mom vs. Dad / kid vs. parent), but that diverseness can only enhance our kids aspirations and thought process.
Team sports is not just about just playing games and being competitive. Sports is about our kids social behavior, interactions with other kids, and they how they act in groups. It is about kids finding new friends (outside our neighborhood), that have common likes and interests, other than just by the boundaries we live in. Our kids learning from different types of people, parents and coaches (other than school, family or church), with a totally different style of disciplines.
Most parents chose this lifestyle, as our own hobbies become very secondary. I loved to golf twice a week, home brewing beer, playing guitar and blogging about what I love, but now days, I do not really have that time. My kids are my hobbies. It is crazy to think that I can surf the internet for an hour, shopping for the new LeBron James basketball shoes for my daughter (or Blake Griffin / Josh Allen jersey that she really wants). Or I might be looking for a Saquon Barkley Color-Rush jersey for my son (because he likes all football teams, not just the Seahawks). Question: how does a 6 year old boys from Seattle become Ohio State fan? (UGGG!)
…it's not exactly the "perfect" life, as I wish my kids loved the Chargers, Padres, Lakers (or the CSUB Roadrunners, like me), but since they do have passions and have favorite players, and I can support that. We play (and watch) Football, Soccer, Baseball/Softball, Basketball, Tennis, Golf, and will keep searching for more things for our kids to like. I have been eyeballing racquetball (again) and La-Cross, so those might be the next two things. ***But to be honest, it breaks my heart when I have to buy Clippers, Seahawks and Buckeye swag. "Dad, will you hold my (Broncos) backpack?" (Hell No! Not now, not ever… NEVER!)
I do wish I had more time to blog, and I will, but until then, check out this "Style of Beer" chart that I found on-line (not that color actually dictates taste, smell and flavors of beer – but it's a cool chart):
Husband: "Honey, grab me a sixer!"

Wife: "Sure, of what? "

Husband: "Something red…"

Wife: "Killian's Irish Red it is…"

Husband: "Noooo! something local… Never mind, just grab me an IPA please…"